Are you getting a new puppy and need assistance?
No problem, Five Star Critter Care is here to help you with our puppy care service!
Puppies require a lot of special care from feeding and training to socialization and house training. In order to ensure your puppy is housetrained in a timely and effective manner it is important to keep your puppy on a set schedule and to have consistent training. We are happy to partner with you and your family to ensure successful house training practices are followed when you can't be home to do so.
For a lot of busy professionals it is hard or impossible to be able to get home to let their puppy out as frequently as they need so Five Star Critter Care is here to help you.  Every puppy is different, but a rough estimate is that a puppy can hold their bladder 1 hour for every month of age. For example, a 2 month old puppy would need to go to the bathroom every 2 hours and for a 4 month old puppy they need to go to the bathroom every 4 hours.  We can work with you and determine the best schedule to have your pup on to ensure they succeed with potty training.
Please call us or fill out a new client form (to the right) so we can get some more info from you and then discuss your pups needs more in depth. From that we can put together a successful action plan.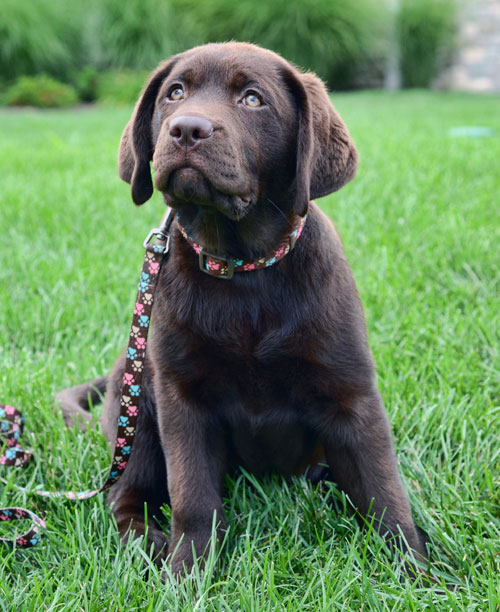 Complimentary Services:
House training
Feeding
Opportunity to get out of crate/restricted area and play
Socialization
Leash training
Obedience training
Refill water bowl
Administer medication if required
Bring in mail & newspaper
Detailed notes about time of service, bathroom details and feeding specifics (this is especially important to track for puppies)
Price
| | |
| --- | --- |
| 1 visit a day | $19 |
| 2 visits a day | $34 |
| 3 visits a day | $51 |
| 4 visits a day | $68 |
*If you schedule & pay on a monthly basis an additional discount will be applied.
Benefits to using a pet care professional for your puppy:
Pet care professionals have the knowledge and experience to be able to care for puppies special needs and expedite house training, obedience and leash training etc…
It is important to have other people outside of your immediate family that live in your home interact with your puppy to ensure they are properly socialized
Once your pup reaches adulthood we can graduate them to our Dog Walking service and we have a variety of other great services to offer including Adventure Hikes and Dog Park Outings
Getting a puppy is a life changing experience. Our puppy care service will help you make that transition easier. Please call us at 720-660-3298 or fill out the new client form located to the right.