I offer boarding on a select basis out of my home in Highlands Ranch. I am no stranger to having dogs in my home, over the last 15 years I have been a foster for several dog rescues in the area (dozens fostered!). Along with that, having a successful pet care business for the last 7 years has taught me how to provide top notch care for dogs. We would like to welcome you and your dog(s) into my home!
Requirements For Boarding:
Adult dogs only – no puppies (ie: no dogs under 1 yr of age).
Spayed/neutered and up to date on vaccinations.
No behavioral issues (this includes aggression, resource guarding, territorial behavior, particular about the dogs they like, incessant barking, humping, fence jumping or fence fighting, poorly trained etc…).
Housetrained and crate trained.
Dogs over 30lb preferred.
3 night minimum booking for new clients.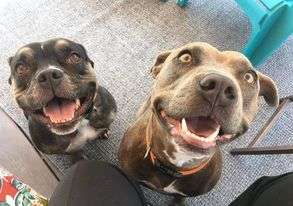 I am a pitbull lover and have two happy and fun loving girls. They are both playful and friendly. Roxie is about 5 or 6 years old and she is my outdoor dog, she lives for hanging out in the backyard and can be pretty independent. Amelia is about 2 years old and is happiest trailing along behind other dogs and trying to get them to play with her.   
About Boarding In My Home
Myself, a male friend and my two dogs are the only inhabitants of my home.
Dogs are allowed anywhere inside my home including couches and beds. *By bed is usually full at night with my two dogs so if your dog is happy on their dog bed next to my bed then that's perfect.
Dogs are never left home alone for more than 4 hours at a time.
If a clients dog can not be trusted free roam or in a gated section of my home then they will be crated and will not be crated more than 4 hours a day.
Dogs will have a chance to go outside to potty and/or play at least 4 times a day.
Dogs are never left unattended in the backyard.
Dog walks are available for an additional charge. Please inquire for more info.
$60.00 –  1st dog
$35.00 – 2nd dog
Day Of Departure & Return
$40 Dropoff after 1pm and/or Pickup before 1pm.
Pickup and drop off day and time must be scheduled ahead of time.
Pickup and drop off times are available between 8am and 5pm.
Belly bands and/or crating may be used if your dog starts marking or peeing in the house.
During Peak Season and Holiday Dates; an additional $15 per day will be assessed and no refunds will be given less than 30 days from the start of service.
Trial half day ($35) is required before being accepted into our boarding service.
If you are interested in seeing if this would be a good fit, please complete the inquiry form below and I will reach out to schedule a complimentary phone consultation.