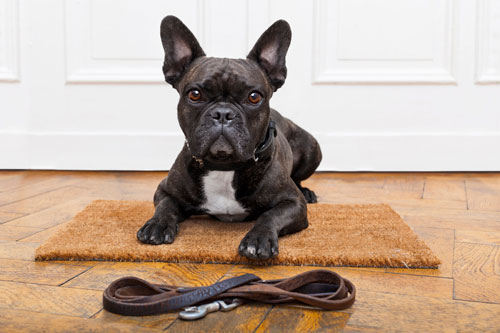 You can have a peace of mind knowing that your pup is having a blast with their dog walker! We offer walks of varying lengths in order to meet the needs of all of our clients dogs.
All of our dog walkers are caring and responsible!  Our dog walkers are employees who are thoroughly background checked and trained prior to being allowed into client homes.  They are all covered under our insurance and bonding policies so you can rest easy knowing someone great is walking your dog. To learn more about our dog walkers please go to Our Team page.
Please refer to our service area to check if your home is located within our service area.  We offer dog walking services in Highlands Ranch, Lone Tree and parts of Littleton and Centennial, Colorado.
Dog walking is available Monday through Friday, NO weekend availability. 
Pricing is based on a one dog home. It will cost $3 for each additional dog.
Reoccurring Dog Walking
This is the ideal option for clients who will be regularly booking at least 3 visits a week on a regular monthly basis.
How It Works:
We will enter your dogs regular walk schedule into our scheduling system and on the 1st of every month your credit card will be charged for that months visits. So really you do not need to do anything!
As-Needed Dog Walking
This option is ideal for any clients who are booking walks on an as needed basis so it's a great option for clients who…
Have varying schedules every week

Only need help sporadically when their life gets hectic!

Walks while they are on vacation (keep in mind we do not offer walks on Saturday or Sunday)

Last minute walks due to a change in their schedule
How It Works
You submit your mid day visit requests and we will process your request and charge your credit card to confirm booking.
***We appreciate all requests be submitted as soon as possible! Noon the day before is the shortest notice we will consider bookings (and noon on Friday for the following Monday walks).

15 Min Visit – Potty Break
This short 15 minute visit is best suited for dogs such as those who do not want a walk, dogs who are not good walkers or senior dogs who just can't walk.  We are happy to provide them with backyard potty breaks.
Recurring Dog Walk – $20
As-Needed Dog Walk – $25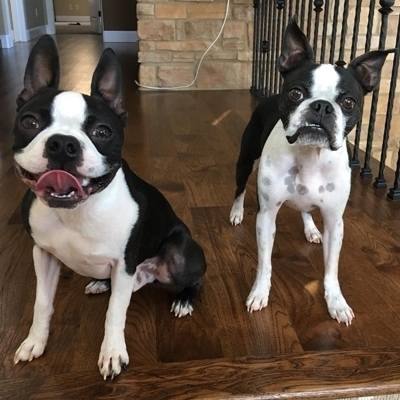 30 Min Visit       POPULAR CHOICE!
Our 30 minute visit is an ideal visit length for us to have a nice walk and then allows us a few extra minutes to ensure your pet has water, a treat if desired and a little bit of love or play time.
Recurring Dog Walk – $27
As-Needed Dog Walk – $32
45 Min Visit
Our 45 minute visits are a great option for dogs who are more active and need a little bit more exercise to tire them out. No problem, we will take your dog on a longer walk so that they can expel some of that energy.
Recurring Dog Walk – $37
As-Needed Dog Walk – $42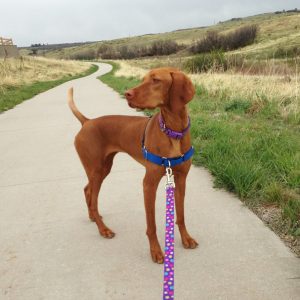 Keep Up With Your Dogs Daily Adventure On Our Convenient Phone App!
After every mid day visit clients will receive a visit report that includes:
 
Arrival time and departure time
Map of the GPS tracked route we walked
Written summary of what happened during the visit
Checklist of what was completed
Other Features Clients Enjoy Within The App:


View and pay invoices
View their dogs scheduled walks and easily request changes to their dogs schedule
Send messages to their walker and office staff
Easy way to update care instructions for their dog(s)
Apple and Apple Logo are registered trademarks of Apple Inc.
Google Play and the Google Play logo are trademarks of Google LLC.
Time To Pet Client App!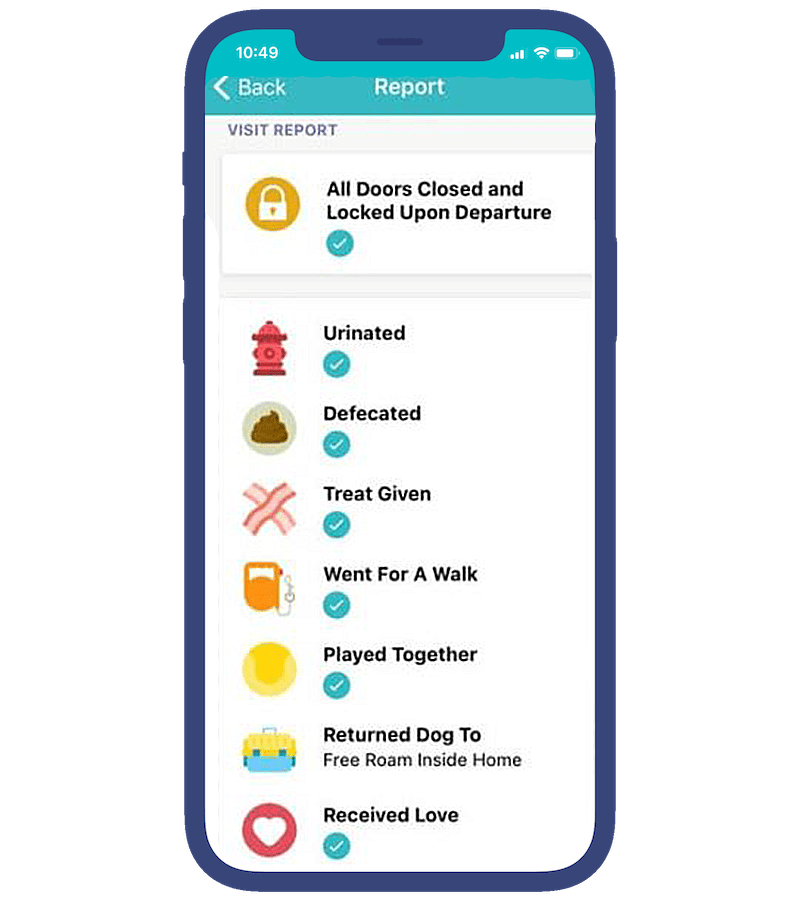 Report After Every Visit!
See A Walk Map and a Photo of Your Pet's Adventure!
Frequently Asked Questions
When are dog walks available?
Our walkers are available Monday through Friday between 11am and 2pm except if a major holiday lands on one of those days.
Will you show up at the same time every day to walk my dog(s)?
We never guarantee that we will be over to walk your dog at a specific time every day but if you have a prefered time or time frame you would like your dog walked, we encourage you to share that in your account because we do take it into consideration when we are planning our walkers schedules.
How do I schedule walks for my dog(s)?
You Don't!
Your pets walks are all automatically scheduled on a monthly basis.  A week before the first of the month you will receive an invoice with your dogs scheduled walks for the next month. All you have to do is look over the schedule and let us know if you need any changes made and then  you pay the invoice.  Once you have paid for the month then you are all set and don't have to do anything.
If you ever need to cancel or would like to add an additional walk you just submit a service request and we will see to it.  
How well leash trained do dogs need to be?
For the safety and well being of your dog and my walkers safety, we require dogs to be well mannered on leash.
We do not accept any dogs who pull hard on a leash, who are aggressive (toward people or other dogs) or are highly reactive.
That being said, we know dogs are not always perfect and they will want to run after a bunny or they may get excited and jump on our walker.  As long as it is not something that is dangerous or could cause an injury.  All of our walkers are equipped with and utilize no pull leashes which are good at curbing pulling.  
I just need walks every once in a while for my dog(s), can you help me?
Currently, due to the high demand of our services, we are not able to accommodate clients who need walks occasionally.  
Will we have the same walker every time?
We strive to create as much consistency as possible for your dogs and our walkers schedules, but sometimes scheduling conflicts makes it so that a different walker comes. We work great as a team and since we are all connected within our Time To Pet app, the walkers assigned to your dog can see their specific care instructions so it is a nonissue.
What is your cancellation policy?
As a general courtesy, we ask that you let us know as soon as possible if you need to cancel any visits!
If you cancel at least 24 hours in advance, you are not charged for that visit and the cost of that visit will be credited toward your next month's invoice.
If you cancel less than 24 hours in advance  you will just be charged for that visit. 
Will you cancel walks if it is too hot, cold, snowy, rainy etc.. ?
We live in Colorado so there is ever changing weather here which our walkers are accustomed to. We walk in all kinds of weather as long as it is safe for our walkers and your dog(s). This means something different for every dog…some dogs like Huskies love their walks the most in winter because it is cold and snowy so no problem, we are happy to walk them! However, if you have a poodle they will not enjoy snowy cold days so we will have shorter walks for them and instead have a play session inside. We will customize a visit plan based on your dogs needs so don't worry.
For safety purposes we do NOT walk dogs if there is thunder and/or lightening!
We will never cancel visits due to weather unless there is a large snow storm forecasted. In that case, most employers have already planned to close the office for the day anyways and we can just cancel your pets visit.